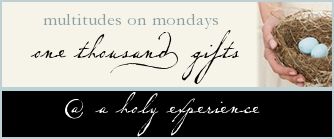 Blessings I counted this week:
46.
Pinterest
(my new, current addiction)
47. The cool new buttons on the right (my facebook page, pinterest, e-mail, etc.) that my friend
Nancy
made for my blog.
Reading my favorite magazine at my own kitchen table in the Manor.
49. A rare, peaceful weekend with nothing to do.
50. Laughing until my cheeks hurt while watching America's Funniest Videos.
New (old) bunk beds for the boys' room at the Manor.
52. Country music.
53. Christian radio stations.
Boys at work
55. All the beautiful cardinals I keep seeing on my way to work.
56. Clean, freshly folded laundry.
New faucets in the bathrooms in the Manor.
58. Warm gloves on a cold day.
59. Lavender scented lotions.
The fact that I have things to smile about.
61. Thrift stores.
62. My cell phone, so the kids can reach me anytime even if I can't be with them every moment.
The boys' excitement at putting some of their things in their room in the Manor.
64. The sound of Hubby's voice during our once-a-week phone calls.
65. My snow boots, that keep my feet warm in the winter even if it hasn't actually snowed yet.
(Wo)man's best friend.