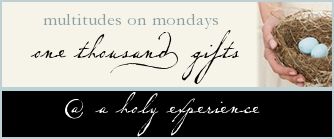 Blessings I counted this week:
67. Gooey chocolate brownies
68. A trip to the thrift store to donate some things that were cluttering up my life.
69. Chicken fettuccine alfredo
70. The honking geese that fly over my new place on their way to a nearby pond.
71. My little boy's artwork on the fridge.
72. A spirit-filled Sunday church service.
One of my favorite stores.
74. Hot, steamy showers that open up every pore in my body.
75. The opportunity to try to make the best of every situation.
76. A steaming cup of mint hot chocolate on a cold night.
77. Italian food.
78. Warm toboggans.
79. The "I love you the most" game my little boy and I play together.
80. A hug from a lady at church, and her words of, "We're so glad you moved here."
81. Holding Hubby's strong hand at visitation.
82. A furry face that wakes me up in the mornings by licking my toes.
83. Chocolate mint yogurt that's only 100 calories.
84. A bible with wide margins, so I can take notes.
85. Diet Pepsi.
86. Teaching myself to use the reciprocating saw.
87. Working on The Manor with my teenage son.